ORGAN RECITAL
Works by Bach, Buxtehude, Elgar, Faure and Widor
Dr. Ann Stephenson-Moe, Organist
December 4, 2016 @ 4:00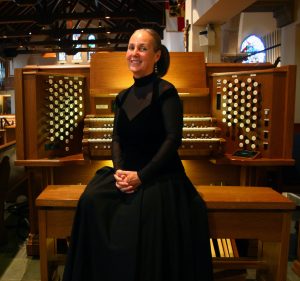 Dr. Stephenson-Moe, Organist/Choirmaster at the Church of the Redeemer since 1974, conducts a large choral program and music series.  Redeemer ensembles have become so popular that a number of music CDs have been produced as a result; the most recent release – Red Hot Vivaldi (November '07) — features the Canterbury Girls Choir.
On February 22, 2014, Redeemer celebrated Ann Stephenson-Moe's 40th anniversary with the church with a Grand Reception. More than 200 people from the church and the community attended. Click here to see photos.
Hailed by former Sarasota Herald-Tribune music critic Florence Fisher as an "outstanding organist whose musical interpretations always reflect the integrity and the period of the composer," Ann Stephenson-Moe is a major musical force in the greater Sarasota area as harpsichordist, accompanist, organist, and conductor.
Her reach, however, extends well beyond Southwest Florida. She has performed solo recitals at St. Thomas Church (Fifth Avenue) in New York City; at the National Cathedral in Washington, D.C.; at Trinity Church (Copley Square) in Boston; and at the American Cathedral in Paris, France.
Dr. Stephenson-Moe co-founded the renowned and much-loved Key Chorale – the Symphonic Choir of the Florida West Coast Symphony. She also co-founded, and performed as associate conductor and keyboardist, for Gloria Musicae, a widely popular chamber chorus which performs throughout Southwest Florida. In an ecumenical spirit, Dr. Stephenson-Moe has been directing choirs at Sarasota-area synagogues since 1984. She is currently Organist and Music Director at Temple Beth Israel on Longboat Key.
Dr. Stephenson-Moe holds a masters in Sacred Music, summa cum laude, from Union Theological Seminary in New York City, where she studied with Alec Wyton and Robert Baker. While living in New York, she served on the music staff of the Cathedral of St. John the Divine alongside Dr. Wyton. She holds a Bachelor of Arts in History from Florida State University, and a Masters in History from Rollins College. She received an honorary Doctor of Music degree from Nashotah House Episcopal Seminary in 1997 in recognition of her leadership in the field of church music.